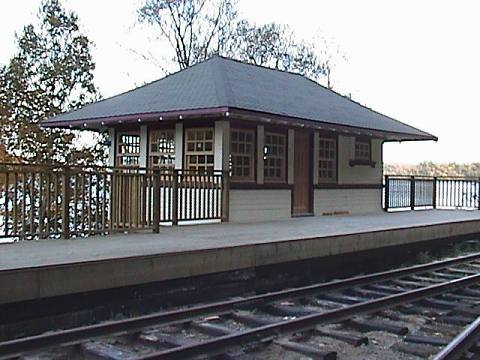 Fairy Lake Station
The purser's cabin was originally located at the end of the WaWa hotel's dock on Lake of Bays. It served as a waiting room, (Baggage Room), and ticket office for passengers boarding the lake steamers. When the hotel burned in 1923, it was the only building to survive. It was moved across the ice to Bigwin Landing in 1950.

The building, donated by Bigwin Resorts Development, was moved to Muskoka Heritage Place in July 1999. It then received a new foundation, roof, exterior repairs and fresh paint.
In 2004 the purserís cabin received its long awaited restoration to become our Fairy Lake Station. The building was given new windows, doors, hardwood flooring, interior walls and ceiling. A new, much larger platform extends from the building along the length of the train, and offers much better viewing of the turntable in operation.
We wish to thank all who made this restoration a reality, especially the North American Railway Foundation, the Muskoka Community Futures Development Corporation, Tembec Wood Products, and the Northern Ontario Heritage Fund.