In the late 1800's the upper Muskoka Lakes District in the Province of Ontario, Canada, was a land of thick forests of pine and hardwoods and supported a very productive lumber industry. The Huntsville and Lake of Bays area of Muskoka was opened to colonization but, since roads were few and far between, early transportation centered around the lakes and rivers. Huntsville, located on a chain of lakes and also on the railway running from Toronto to North Bay, became a main transfer point for freight and passengers. The Huntsville and Lake of Bays Navigation Co. operated a fleet of steamboats servicing the Fairy Lake, Peninsula Lake, and Lake of Bays areas and, in 1902, began construction of a steam railway over the portage, a height of land separating Peninsula Lake from Lake of Bays.

Since Lake of Bays stands about 100 feet higher than Peninsula Lake and the portage contains steep rock bluffs, some lofty hills and a small lake, this project faced almost insurmountable difficulties. However work progressed and the Portage Railway was completed in 1904. It included some unusual engineering features. From the wharf at North Portage on Peninsula Lake a steep switchback was required to get up the initial slope and ended in a "Y", the train then reversed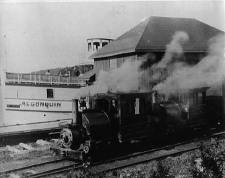 and had to climb nearly 120 feet in just 3/4 of a mile to reach the summit. It then followed a narrow pass through the hills, skirted around steep rock bluffs and squealed around an almost impossible hairpin bend along the shoreline of Osborne Lake, to arrive at South Portage on Lake of Bays. With an average gradient of 3%, and one section of an incredible 7%, it is amazing that the Portage Railway was able to function at all, since a 2% grade is considered high on many railways.

The narrow-gauge (42") Portage Railway, only 1 1/8 miles long, was designed around two tiny seven-ton four-wheel (0-4-0) saddle-tank wood-burning steam locomotives built in 1888 by the H.K. Porter Co. of Pittsburgh and purchased second-hand from the E.B. Eddy Co. in Hull, Quebec. Passenger service was provided by two coaches constructed from horse-drawn streetcars of the Toronto Street Railway, one 50 passenger and one 80 passenger, equipped with hinged-back seats that could be flipped over so that passengers could always face in the direction of travel without the need to turn the coach around. To handle the large volume of freight, lumber and tanbark the Portage Railway had two box cars and three flatcars, all custom-built by the railway crew. The little Portage Railway was advertised as " The smallest commercial railway in the world". By 1948 the original Porter steam engines had reached the end of their working life and, failing to pass the annual boiler inspection, were removed from service. The two tiny locomotives were bought by a collector,Cameron Peck of Chicago, and eventually found a permanent home as exhibits at the Harold Warp Pioneer Village in Minden, Nebraska, where they remain to this day.

They were replaced by two much larger steam engines, No.1, a 17 ton coal-fired unit, and No.2, a 21 ton oil-fired unit. Both were 42" gauge saddle-tank 0-4-0 locomotives built in 1926 by the Montreal Locomotive Works, Quebec. The 21 ton engine proved to be too heavy for the light-weight track and was put into storage.

No.1 locomotive took over the task of the original two locomotives and continued as the star performer through the remaining years of the railway. The development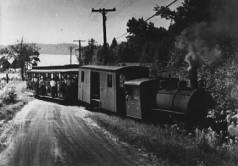 of many tourist resorts, such as Bigwin Inn and Deerhurst, around the Lake of Bays increased the demand for transportation. These were busy times for this engine, now known as the Portage Flyer, as it struggled to carry prodigious quantities of lumber, supplies, tanbark and many thousands of passengers each season on the little Portage Railway. This railway operated quite successfully for many years but, with the development of roads and the increasing use of automobiles and trucks, it became less and less profitable and in 1959 ceased operations. The steam locomotives, track and equipment were sold and moved to St.Thomas, Ontario, to become a tourist attraction known as the Pinafore Park Railway operating on a 1/2 mile circular track.

In 1984, the steam locomotives were offered for sale and were purchased by the newly-formed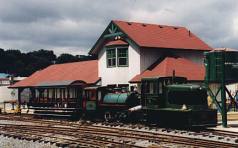 Huntsville and Lake of Bays Railway Society and brought back to Huntsville. "The Portage Flyer" had returned home after an absence of twenty-three years. The aim of the Railway Society was to build and operate a tourist steam railway featuring the "Portage Flyer", and, at the same time, preserve some of the history of the steam transportation era in the Huntsville and Lake of Bays district. In 1993, discussions began between organizations with similar objectives and finally resulted in the formation of Muskoka Heritage Place representing a partnership between the Town of Huntsville, owner of Muskoka Pioneer Village, and the Huntsville and Lake of Bays Railway Society. The Town of Huntsville granted the use of land in Huntsville's Memorial Park and, through the tireless efforts of a dedicated group of volunteers, a Train Shed and Train Station were erected and some 1500 feet of service tracks installed. The main line was been built in 1999 following the road along the Muskoka River to where the river empties into Fairy Lake.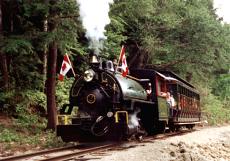 The portage flyer returned to service at the grand opening celebration on July 1, 2000. It now transports visitors on a 3/4 mile train ride along one of the most scenic and picturesque routes in the Huntsville area.

In the summer of 2001, two manually operated turntables were installed, one at each end of the line. Visitors can now watch the locomotive being turned, a rare opportunity these days.


In 2004 the old purser's cabin from the dock of the WaWa hotel on Lake of Bays was completely restored to become our Fairy Lake Station. The building was given new windows, doors, hardwood flooring, interior walls and ceiling. A new, larger platform offers a much better view of the turntable and the beautiful scenery.