Restoration of Locomotive #1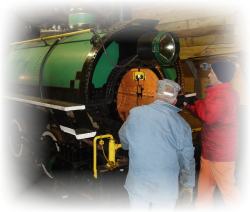 Work is under way to return locomotive #1 back to operation. This 17-ton 0-4-0 saddle tank steam locomotive was built in 1926 by the Montreal Locomotive Works. It pulled trains on the original Portage Railway from 1948 until the closing of the line in 1959. It operated as both the number 5 of its previous owner, and the number 1 during that period. After later operating on the Pinafore Park Railway, the locomotive was sold to the Huntsville and Lake of Bays Railway Society in 1984, along with sister #2 and other equipment, and returned to Huntsville.
#1 has been our display locomotive since the opening in 1999, while #2 has pulled the train since 2000. In December 2003, with donations from several members, the boiler shell was ultra-sounded and inspected. With some generously donated funds we are now proceeding with the restoration.
In May 2006, several boiler tubes were removed and welding done in preparation for installation of new tubes this summer. A special thanks to Ray & Jean Allaby, Trevor Allaby and Adam Simard of Quinte Boiler Service of Brighton, and welder Joel Kelly of Napanee for all their work, not only on #1, but also replacing tubes on #2.
While much work remains to be done, the restoration is proceeding nicely. We wish to thank all the volunteers who generously donate their time to this project, and the donors who help make it all possible.
Photos - click on any photo to enlarge